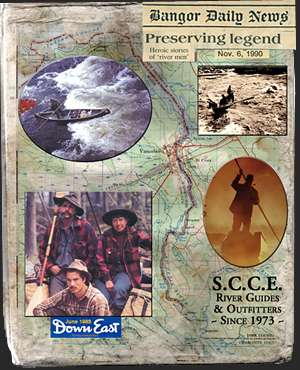 One of Maine's true gems, the Saint Croix River is a classic Maine canoe trip, rising in an extensive chain of wilderness lakes, and flowing through exceptionally beautiful woodlands and vast natural meadows along the Maine-Canadian border. This trademark guided Maine river trip features an abundance of easy whitewater (class I-II), scenic secluded campsites, an easy pace, and excellent cuisine. Lively but not intimidating; the Saint Croix can be enjoyed by a wide range of canoeists, from beginner to expert. Our veteran Master Maine Guides have been engaged in canoe instruction for over 45 years. This Maine river is ideal for learning open canoe technique - especially solo paddling and poling, our specialty. It is also perfect for family vacations, or for those simply seeking a relaxed and tranquil river sojourn. There are both four day and six day options available.
Once used for driving logs - through the remote forested reaches of easternmost Maine and the Canadian province of New Brunswick, the outstanding natural values of the Saint Croix Waterway, has led to its protected status as a "Canadian Heritage River". Noted as one of the few principal nesting areas for the American Bald Eagle, it also has a significant moose population, and boasts superb smallmouth bass and salmon fishing.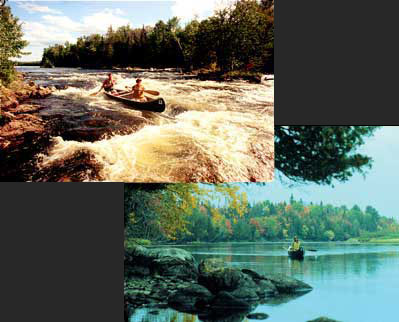 The Saint Croix is perhaps Maine's best, if not only, choice for an extended canoe trip, with whitewater, in the middle of the summer season and into the fall.



FAMILY VACATIONS, CORPORATE OUTINGS
& CUSTOM PRIVATE TRIPS
Throughout the summer, we assemble small parties of 4-8 people, (scheduled trips generally run Wednesday through Sunday.) However, private groups, family parties, and corporate outings can schedule custom dates, (3-7 days) which are priced accordingly. Although individual rates are based on $175 - $225 per day per adult, there are pricing considerations for children accompanying their families (1/2 -2/3 of adult rate) and family groups in general.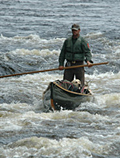 Prices are all-inclusive; all guides are professional Master Maine Guides, the cuisine is superb, and prices include all equipment, plus land transportation to and from river. Camping is at primitive sites along the river - many of which were established by Brown and the Sunrise guides over the past 45 years; (in fact, maps of the region bear the names we bestowed on these river features.) We pride ourselves on our meals. Dinner is accompanied by fresh baked goods, salads, and wine. Special dietary needs can be accommodated. All each individual need bring is their own clothing and sleeping bag. Packing lists are provided

Although scheduled trips generally meet in Bangor, Maine the evening prior, private parties also have the option of meeting at our historic Eastern Maine Base Camp on Cathance Lake in the interior of Washington County. Dinners and breakfasts can also be arranged as part of a package.
Inquire for specific details regarding
itinerary options, extras, scheduling and pricing.
Call 800-RIVER-30 (207.942.9300)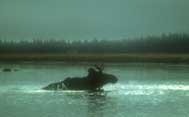 WEEKLY CANOE TRIP OPTIONS:
LATE MAY - MID OCTOBER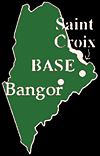 4 DAYS - RIVER ONLY: Wednesday to Saturday; (arr. on Tuesday eve.) A relaxed river trip incl. instruction, 4 days wilderness river travel, ending the trip with the traditional "early morning/predawn" paddle.
Runnable May-October, the river is at its finest in the autumn when its lush and varied forestation gives rise to spectacular fall foliage.

6 DAY - RIVER AND LAKES: Monday -Saturday; Our classic combination, whereby the four day river itinerary above is preceded by two days lake travel and dramatic island camping on the headwaters lakes - East Grand and Spednick.
Based on approx. $225 - $300/day per adult*

(Children with family, or large groups - price is reduced).
*Prices are dependent on whether the trip is Open to other Participants - or arranged as a Private Party.

Machias River Video
(Encyclopedia Britannica)

Boston Globe -
Saint Croix River Slideshow